Studio tau
Studio tau, is a company that – since 2000 – operates in the field of consultancy services, know-how transfer,  training courses; our services are proposed to companies and other private and public organizations.

Our organization, simple and dynamics, works according to an ISO 9001 management system, certified (see below) for the activities of
"Consulting services and business development.
Design and realization of training courses for companies"
The company Studio tau, has developed an innovative approach, based on the following values:
– the competence of the professionals that operate for us
– the respect of personal and professional ethics.
Our objective is synthesized in the slogan "to better manage your business"; to achieve it we aim at:
– a high level of quality in consultancy servics, both for system and product
– simple solutions, from the initial phase, to the following maintenance
– effective training courses
– partnership with the customer with a constant updating of the range of services we offer.
Our brand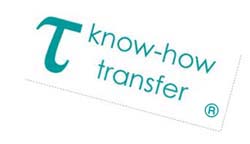 characterizes the activity of the professionals that operate in the frame of our structure.